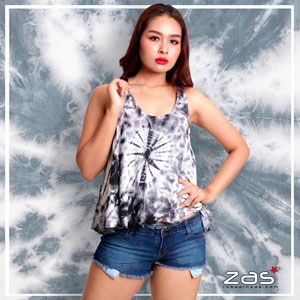 TIE DYE: THE HIPPIE CLOTHING FOR EXCELLENCE
April 12, 2021
Tie dye hippie clothing, whether for men or women never goes out of style. It will be because of their vibrant colors, their unique designs or how fun these clothes can be to create. Today we want to talk to you about the tie dye technique.
Although at ZAS we always have a wide assortment of hippie clothes and accessories dyed with the tie dye technique that, if you want, you can buy in our online store at very good prices always adjusted, also you can have a great time creating your own tie dye designs at home, and in this post we are going to give you some guidelines on how to create your unique hippie clothing designs with this technique. But we start at the beginning.
HOW WAS HIPPIE TIE DYE CLOTHING BORN?
We tell you: Everything must go back to the early 60s when the social movement against capitalism and material consumption led the hippies to be referents of a style based on reusing all clothing items. Very ingenious, they decided to experiment with water, dyes and ropes, in order to turn widely used garments into new models with prints that reflected their spirit of peace, love and freedom.
After her, she was followed by famous singers such as Hendrix and other bands that ended up turning these charismatic garments into the quintessential hippie flag and a way to support social demand.
Today the great concern by society about the use of toxic chemicals in fashion or the development of respectful and sustainable processes For its creation it has made this technique one of the most used.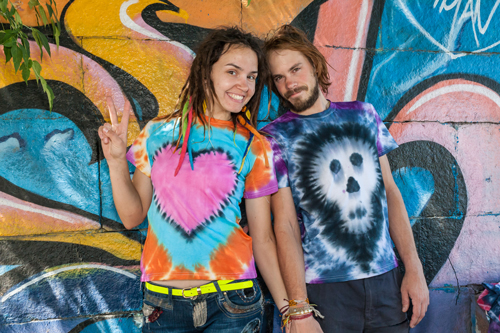 Do you want to try? Maybe you've always wanted, but you think it's too messy. Do not worry!
HOW TO MAKE TIE DYE CLOTHING AT HOME
We have compiled for you all the steps to follow so that you can make tie-dye garments at home, the necessary materials and how to form different figures.
The first, very important:
- Preferably cotton garments: because it allows the total absorption of the dye and its intense duration of the color. It is not necessary that they be white, but they must be made of natural fibers.
- Thin or wide strings: the so-called "rubber bands" can be found in haberdasheries.
- Dyes: for clothes, if they are natural, much better to avoid toxins in contact with the skin.
- Bucket and gloves (so as not to dye your hands)
- Water: a container with cold water.
How to tie dye hippie clothing?
It is always done in the same way, but it is important to complete all the steps:
- Prepare your workspace by covering the surface or taking the process outdoors on the lawn.
- Mix the dyes with warm water and separate them from each other. Typically, they include their own ready-to-use container.
- Put your garment (shirt, pants, dress ...) in a bucket with cold water and a little salt to fix the colors you will apply.
- Use the elastics to create your free pattern or one of those indicated. Make sure to knot them well so that the desired shape sets.
- In each section add the colors you want. The more varied, the more hippie style it will have. Flower-power creativity!
- When you finish, put the shirt in a plastic bag for a whole day (24 hours) without touching it. Not even to gossip, hehe.
- The next day, take the garment and cut the knots. Rinse it well in cold water to remove any traces of dye. Then put it in the washing machine on a cold-delicate program.
- To dry it you can put it in the sun or in a dryer with very hot air to fix, much more, the colors. Heat always helps finish the process.
TIE DYE CLOTHING PATTERNS: FUN AND UNIQUE GARMENTS
If you want a specific pattern, these are the most used in hippy clothing: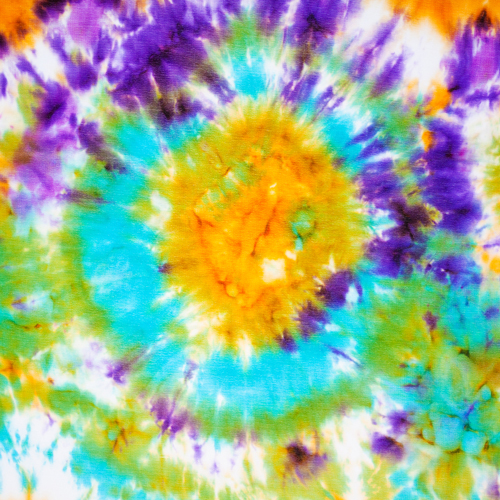 Spiral: spread your garment and little by little turn the pieces of fabric clockwise to tie them with the rope.
Stripe fabrics- Lay out your garment and begin to fold it horizontally or vertically as desired until it lays completely flat. Take the rope and tie different knots along the entire fold. Use the dye for the ink stripes
Bullseye: take the center of your shirt with your hands, lift it from the center only and put different knots to complete the entire shirt.
Marbling: crease your garment and make even sections, none of the same size.
Have you seen how easy?
Now you just have to give rein to your hippie creativity and enjoy!
Newsletter
MAIN CATEGORIES