Alternative Hippies Blog and News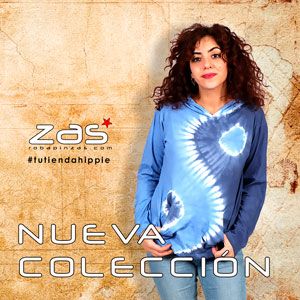 AUTUMN NEWS - WINTER NOW AVAILABLE
October 11, 2020
With little delay ..., but we ALREADY have the autumn winter ethnic hippie news uploaded to the web. Click on the link to see them all https://www.robapinzas.com/catalogo/novedades
We emphasize that we have received a repo of the collection HIMALAYA HEMP FROM NEPAL, with new designs in backpacks, fanny packs, handbags and many other items made with the best Hemp in the world, the hemp of Nepal from plantations in the Himalayas, fibers that are hand-woven to form cloths that are also made by hand all items.
We have also received Girl's long sleeve t-shirts, Jackets y patchwork sweatshirts for girls and also Kangaroos sweatshirts and patwork jackets and Hippie and alternative style for boys.
** Please note that there is a selection of garments in which there is only availability of ONLY 1-2 garments for each reference, so now more than ever, if you like those prizes YOU SHOULD NOT WAIT TO BUY THEM because if you do, you probably already they will have been sold.
I send you a cordial greeting
To subscribe
SUBSCRIBE THE ZAS IMPORTANT NEWS FEED SO YOU MISS NOTHING OF WHAT WE POST IN THIS SECTION:
Subscribe by E-mail