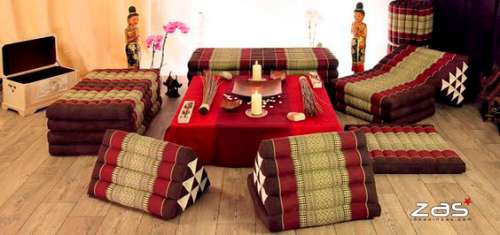 KAPOC THAILAND PILLOWS AND MATTRESSES NOW ON SALE!
Choose your mat, pillow, futon or cushion with natural kapok filling, imported from Thailand. For yoga, gymnastics, as decoration decoration, for vans, meditation, massage. With natural kapok filling and ethnic cotton fabrics. The mattresses and mats are foldable to save space when they are not used, and they can also be used in various ways as a mattress, as a puff, to make comfortable decorative sofas with recycled structures such as pallets, for beds in vans, as an auxiliary bed if we have guests, now that the mattresses are foldable and for endless applications, the limit is in your imagination.
★ WINTER SALE ★ DISCOUNTS starting from 20% ★ ON PILLOWS AND MATTRESSES FROM KAPOC THAILAND
Take advantage of the offers and discounts in this category to take the item you like the most to
best price
. Please note that this offer or discount may be for a limited time
Buy Kapoc Thai Pillows and Mattresses
BEST SELLER IN KAPOC THAILAND PILLOWS AND MATS
OTHER PRODUCTS IN Crafts - Incense
YOU MAY ALSO LIKE ...
SECTIONS in CRAFTSMANSHIP - INCENSE
MAIN CATEGORIES