Hippie and Alternative Clothes and Accessories DropShipping
Drop Shipping - Sell ZAS products without needing to have them in Stock.
There are times when you need to reinvent yourself. In the face of the coronavirus crisis, the state of alarm, the economic consequences by which all of us in one way or another are going to be affected, it is vital to react and take action. Online sales are reaching even more prominence than it already had and it was already a lot ... Surely many of you have launched to create your online store, if you did not already have it ... or give it more prominence and put more energy in online sales either through your own online store, or through social networks and even platforms such as Ebay or Amazon.
Having in stock all the products that you can sell through the Internet, whether on social networks or your online store, it is clear that it is a risk that not everyone wants to assume, that is why we have enabled the dropshipping as an additional option that can be combined with those already existing in ZAS robapinzas.com to Wholesale.
But let's go by parts:
What is DropShipping?
Dropshipping is a variant of Ecommerce where the selling online store does not have the products it sells in stock; instead, when the store sells a product, it buys it from another store, in this case ZAS, which sells it at a special price and is responsible for sending the product to the end customer. In this way, the store that sells the product does NOT need to have stock of it or make shipments. Profit is obtained from the price difference between the price at which the product is sold to the end customer and the price at which it is purchased from the supplier.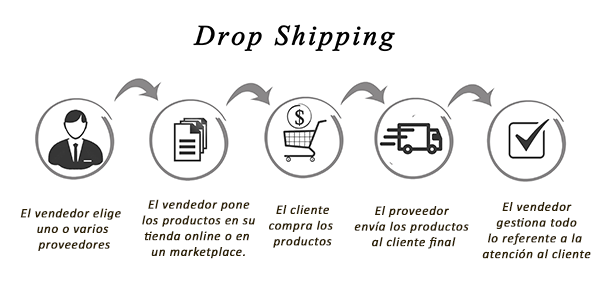 What is the difference between Dropshipping and ZAS Wholesale options?
They are different and complementary things.
For Wholesale The price at which you buy the product is much lower but you must purchase the products and then resell them, which involves a certain risk.
At DropShipping The price at which you buy the product is higher, but you only buy it if you in turn have sold it.
For Wholesale You must buy a minimum amount of € 150 in products, or pay a surcharge if you do not get to buy € 150.
At DropShipping you can buy only one product at a time
For Wholesale If you want to have an online store with many products, you should buy them all. Sizes, color variations, etc. Everyone knows that an online store works much better if many different items are sold in it, which would be a BIG investment that will be acceptable perhaps once established, but too much to start trying.
At DropShipping You can have a very large online store with many products and with 0 risk, since you will only buy those products once you have sold them.
For Wholesale If you want to have an online store with stock, you must have a warehouse, packaging material, contracts with carriers that reduce the cost of shipping, manage shipments and everything that entails.
At DropShipping It is the supplier who is in charge of sending the items to the end customer, so it is not necessary that you have a warehouse, or any of the above, you can only take care of promoting the products and achieving sales.
For Wholesale the profit margin is greater, being able to reach, in some cases, up to 150% and even 200% profit on the purchase price or even more. However you must take risks.
At DropShipping The profit margin of each sale is much lower, around 20% of the sale price, however you do not take risks.
For Wholesale the product has an established PVM (wholesale price).
In Dropshipping You buy the product at a discount on the retail price. (Retail price) If the PVP already had a discount, your discount accumulates to the existing discount.
Examples:

-You are creating an online store And you do NOT have a physical store, you could put all the ZAS products in your online store without having to make an investment in the products and go buying them as you sell them, we take care of the shipping and you manage customer service.
-You have a physical store for which you buy products at wholesale prices, but you have also started selling online. You can combine in your online store the products that you have 4s in stock, with others that you do not have stock and buy them when you sell them.
-You have a physical store and sell through social networks. You can promote products that you do not have in stock, make sales in which you get a profit margin, and then decide if you want to have a stock of those products to have a higher margin.
-You deal well with social networks You can promote the ZAS products that you like the most or those with the most possibilities or margin and buy them at ZAS only once you have already sold them. We take care of sending it to your customers and you only have to take care of doing the promotion and customer service.
As I said at the beginning, it is time to reinvent yourself and look for profitability options where we assume the least possible risk. At ZAS robapinzas.com we want to facilitate access to new sales methods that comply with the above.
At ZAS, when it comes to reselling our products, you have many options that can be combined with each other in order to respond to the needs you have at any time, all of them are combinable with each other so that they can be used at the time that most interests you. We summarize them for you:
Wholesale with a minimum of € 150 / order with highly competitive wholesale prices.
Wholesale with NO minimum purchase*, with a small management fee, for those occasions when you cannot reach € 150 / order.
Dropshipping where you sell ZAS products Without having stock, buying them at ZAS at a special price once the sale is closed and taking care of customer service only.
If you want more information to sell our products through the DropShipping method, contact us and we will send you all the information, when you contact us, provide us with your complete information including NIF address and contact telephone number, as well as a description of your business and website or page of FB where you are going to distribute our products in order to make an assessment.
Iñaki Olazagoitia