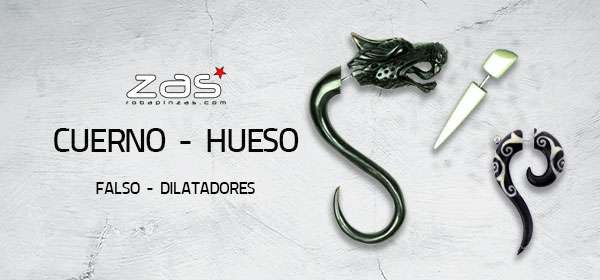 HORN AND BONE EARRINGS NOW ON SALE!
Buy Horn and bone earrings and spikes also called false-dilators and false expanders since they are earrings suitable for the normal hole of the ear and can be worn by anyone. Fake Piercings or FAKES are earrings that simulate that you are wearing a dilation or expansion of a piercing in the ear lobe of a greater diameter than you actually have. They are suitable for normal 1,2mm lobe holes and the pins are made of anti-allergy materials such as surgical steel and sterling silver. In the section of fake dilators or piercing FAKES we bring you a wide selection of FAKES of many shapes and sizes made by hand in organic materials in an alternative bohemian and tribal ethnic style, smooth and carved models such as spirals and spikes with engraved designs made Manually one by one by the best artisans, we bring them directly from the workshops at the best prices.
★ OFF SEASON OFFERS ★ DISCOUNTS starting from 15% ★ ON HORN AND BONE EARRINGS
Take advantage of the offers and discounts in this category to take the item you like the most to
best price
. Please note that this offer or discount may be for a limited time
THE BEST SELLER IN FALSE-DILATORS EARRINGS
Buy Horn and Bone Earrings
OTHER PRODUCTS IN Jewelry and Silver
YOU MAY ALSO LIKE ...
Opinions of other Clients
SECTIONS in JEWELERY AND SILVER
MAIN STORE CATEGORIES