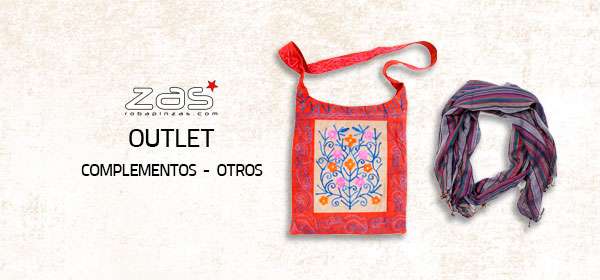 OUTLET OF ALTERNATIVE HIPPIES COMPLEMENTS NOW ON SALE!
In this section, the Outlet Other miscellaneous section, you will find the Outlet ethnic hippie items that are not clothing or jewelry, discounted from 60% on the original retail price. Find all kinds of articles at exceptional prices. They are products of accessories, crafts and others of which we have loose units or that we want to liquidate and we offer them many times below our cost price. You have to be attentive, yes. Many of the products shown here are short-lived due to the limited units available and the super prices offered.
★ OUTLET OF HIPPI COMPLEMENTS ★ DISCOUNTS starting from 60% ★ IN OUTLET OF ALTERNATIVE HIPPIES COMPLEMENTS
Take advantage of the offers and discounts in this category to take the item you like the most to
best price
. Please note that this offer or discount may be for a limited time
THE BEST SELLER IN OUTLET OF BAGS AND OTHER HIPPIES ITEMS
Buy Outlet of alternative hippies accessories
OTHER PRODUCTS IN Outlet
YOU MAY ALSO LIKE ...
Opinions of other Clients
SECTIONS in OUTLET
MAIN STORE CATEGORIES