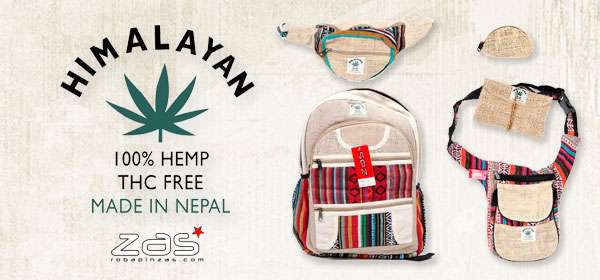 HEMP BAGS. BACKPACKS AND BELTS
Buy your hemp bag, fanny pack or backpack at ZAS. Made with Himalayan HEMP in an artisanal way, In our store you will find a wide variety of accessories made with these natural fibers in NEPAL form and brought for you from the producer workshops. Buying Nepalese Hemp products in ZAS you are actively collaborating with the development and survival of small family artisan workshops, artisan communities and fiber producers in one of the poorest countries in the world, Nepal.
Buy Hemp Bags. Backpacks and fanny packs
THE BEST SELLER IN BAGS, BACKPACKS AND HANDBAGS OF HEM
OTHER PRODUCTS IN Accessories
YOU MAY ALSO LIKE ...
SECTIONS in COMPLEMENTS
MAIN CATEGORIES