PILLOWS AND MATS FROM KAPOC THAILAND ★ HANDMADE ITEMS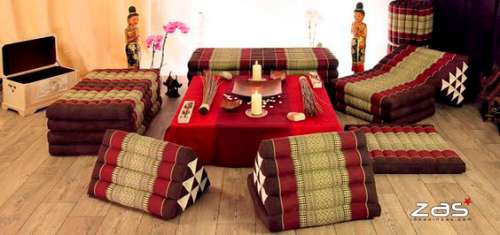 KAPOC THAILAND PILLOWS AND MATTRESSES

Choose your mat, pillow, futon or cushion with natural kapok filling, imported from Thailand. For yoga, gymnastics, as decoration decoration, for vans, meditation, massage. With natural kapok filling and ethnic cotton fabrics. The mattresses and mats are foldable to save space when they are not used, and they can also be used in various ways as a mattress, as a puff, to make comfortable decorative sofas with recycled structures such as pallets, for beds in vans, as an auxiliary bed if we have guests, now that the mattresses are foldable and for endless applications, the limit is in your imagination.
Alternative Ethnic Decoration. Incense and Exhibitors
In the Handicraft - Incense section we include several sections in which we bring together both ethnic decoration objects from various regions such as Indonesia, Thailand or Nepal where to find from masks or other decorative objects, also high quality ritual objects such as our fantastic collection of Tibetan Bowls. best in the world manufactured in Katmando with an alloy of the 7 metals. Also our varied collection of Thai pillows, beds, and mats made with ethnic tekas and filled with natural kapok, or our selection of incenses and incense holders brought to you by the best producers. You will also find a collection of handmade wooden displays.
Buy Pillows and Mats from Kapoc Thailand
Other customers also liked ...